A glance beyond the borders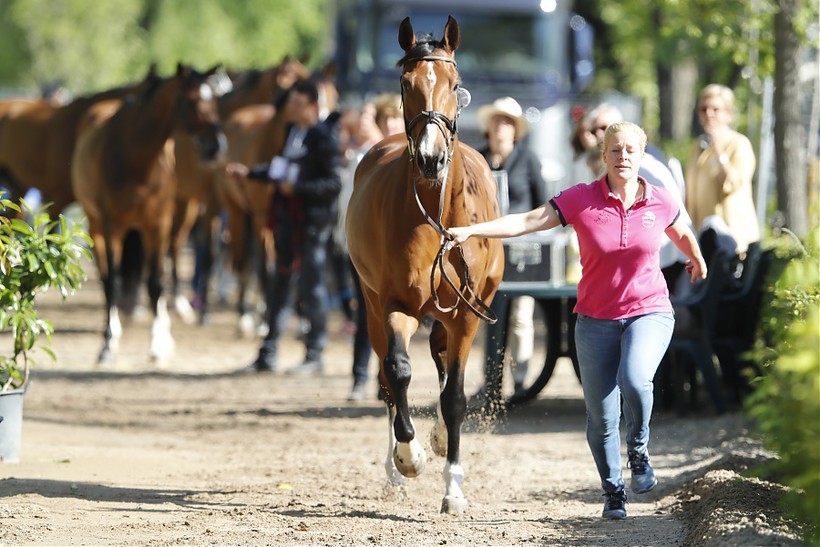 When SBS horses are successfully exported
As the international sporting season is in full swing, it is worth looking at the riders of SBS horses. Last weekend, out of more than 110 rankings awarded to our representatives, more than half were achieved with foreign riders.
Everyone obviously remembers the exploits of SANCTOS VH GRAVENHOF (Quasimodo vd Molendreef/Nabab de Rêve - breeder: W. Taets in B-9971 Lembeke) associated with the British Scott Brash, those of ROTCHILD DU BOSQUETIAU (Artos/Elegant de l'Ile - breeder: B.&L. Pagnieau in B-7062 Naast) and HH AZUR GARDEN'S HORSES (E.O.) (Thunder vd Zuuthoeve/Sir Lui - breeder: N. Beaufort in B-8600 Pervijze) under the saddle of the American McLain Ward, or the titles of H&M ALL-IN (Kashmir van Schuttershof/Andiamo - breeder: B. Huijbregts in NL-4891 PV Rijsbergen) with the Swedish Peder Fredricson, as well as those of REVEUR DE HURTEBISE (Kashmir van Schuttershof/Capricieux des Six Censes - breeder: S. Siraux in B-7060 Soignies) partnering with the French Kevin Staut.
These are not exceptions, not by any means. And the expatriation even seems to work very well for VERYBELLE DU SEIGNEUR (E.O.) (aka OAK GROVE'S HEARTFELT - Heartbreaker/Rubens du Ri d'Asse - breeder: La Ferme du Seigneur in B-7387 Honnelles) which is able to combine a 3rd place over 1.50m at the CSI3* of Mannheim (GER) and a 4th place in the GP on 1.60m of the CSI4* in Gross Viegeln (GER) with his German rider Harm Lahde over the same week. It also seems favorable to CAP DIAMOND D'HOF TEN BOS (Diamant de Semilly/Farmer – breeder S.&B. Van Paeeschen in B-1501 Buizingen) victorious in New York with the Colombian Ilan Bluman, to DREAM VAN GENERHESE (Indian Gold van Castershoeve/Wolfgang – breeder: P. Timmermans in B-3945 Ham) ridden by the Italian Antonio Alfonso and FLAVIE VAN DE HELLE (E.O.) (Carlow van de Helle/Carvallo - breeder: Stoeterij van de Helle in B-2580 Putte-Peulis) associated with the British Chloe Aston both winners on 1.40m at the CSI2* of Opglabbeek (BEL), to DOLCE DECEUNINCK (E.O.) (Toulon/Cartier van de Heffinck - breeder: G. Schoutteet in B-8211 Aartrijke) and the French Olivier Perreau, winners of the GP on 1.45m at the CSI2* of Fontainebleau (FRA), to the 7 years-old GIULIA DU HOUSSOIT (R.O.+) (Button Sitte/Sherman Sitte - breeder: Horse of Belgium in B-7904 Pipaix) victorious at the CSIYH of Busto Arsizio (ITA) under the saddle of Martina Meroni (SUI), and, last but not least, to the 6 years-old HEUREUSE NOUVELLE WH (Cardento/Indoctro - breeder: J. Slechter in B-3500 Hasselt) winner at the CSIYH in Wiener Neustadt (AUT) with Slovak rider Radovan Sillo.
SBS products are highly appreciated all over the world! (CA)