The "G" generation is already playing in the big league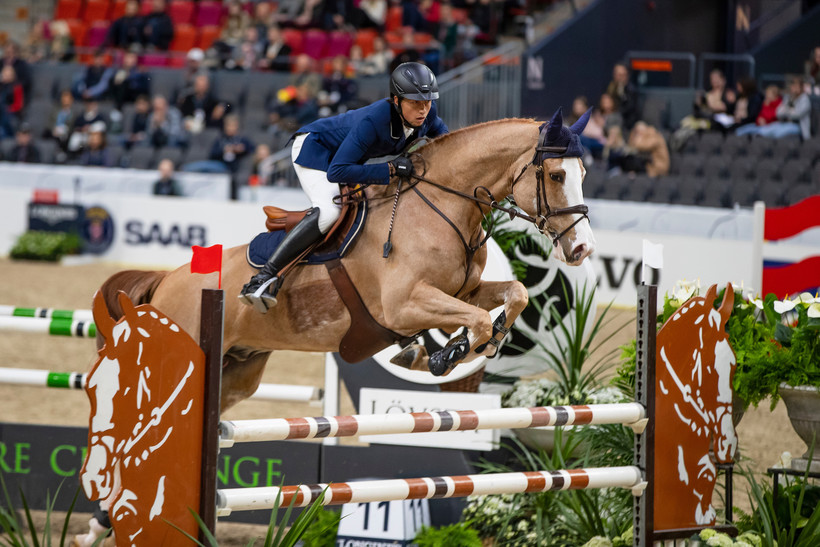 Spotlight on the 7 years old
This weekend was once again very successful for the SBS with about a hundred CSI rankings for its representatives across the European continent. That said, if there is anything to remember, it is the feats of the "G" generation.
Indeed, at the end of this weekend GODIVA S (R.O.+) (Andiamo/Darco – breeder: A. Peffer in B-2200 Morkhoven) and Charlotte Philippe (BEL) once again made a name for themselves by winning not one, but three events at the CSIYH1* of Bonheiden (BEL) over 1.30m. GOTHA DE LA BRASSERIE (I'm Special de Muze/Karacondo –  breeder : J. & M. Pellaux in CH-1400 Yverdon) also obtained two good results during these same events: a 12th followed by a 7th place under the saddle of Christophe Vanderhasselt (BEL).
At the CSIYH1* in Cagnes-sur-Mer (FRA), Odile Gierech (BEL) and GEISHA DES SEQUOIAS SEQUOIAS (Bamako de Muze/Kannan –  breeder: Élevage des Séquoias in B-1460 Ittre) achieved a series of rankings: 1st place in the 1.25m event, followed by 5th and 3rd place in the 1.35m over the following days. However, GRAY D'ALBION-D.B. (Balou du Rouet/Lupicor – breeder: N. Bouilliart in B-1180 Uccle) has nothing to be jealous of, since like Geisha he accumulated good results: a 1st place also on the 1.25m, as well as a 6th and 8th place during the 1.35m events.
Another new podium in Gorla Minore, Italy, for the couple GOTHAM CITY P.L. (R.O.+) (Filou de Muze/Final Shot – breeder: P. & Th. Lejeune in B-8690 Alveringem) and Ömer Karaevli (TUR) who once again won the 1st place in the 1.35m of the CSIYH1*.
And, last but not least, let's head to Gothenburg (SWE) where was held the CSIYH1*, on the sidelines of the World Cup FinalTM. This is where Martin Fuchs (SUI) and his fantastic GHOST DE RÉVILLE (President/Orlando - breeder: E.U.R.L. Équi Creuse in FR-23170 Lussat) excelled. First with a 4th place in the 1.30m event reserved to the 7-year-olds, then with an outstanding 1st place on the 1.35m and finishing on a 2nd place in the 1.40m this Sunday.
These results only confirm what has already been said: this generation is full of promise! (ML)