The Élevage du Seigneur once again under the spotlights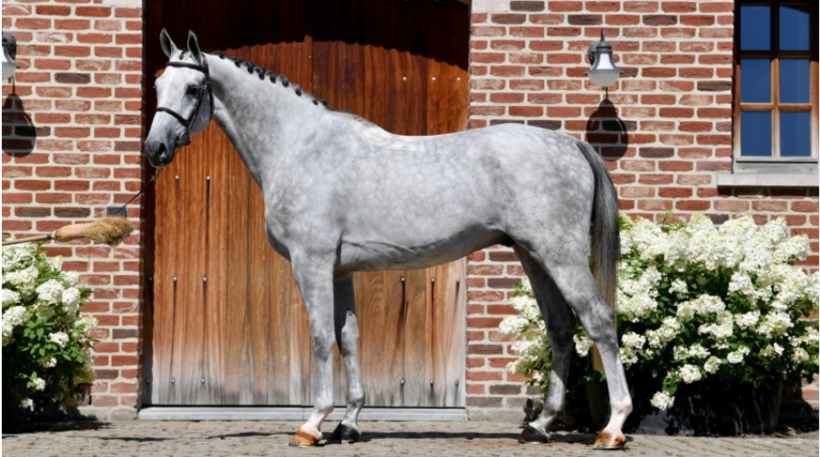 A 64 000€ bid for Jackson Billy du Seigneur at the Woodlands International Sales
Already noticed during the 5-years-old Belgian Young Horse Cycle, Jackson Billy du Seigneur, the fine grey born at Marc Vanlangendonck's in Honnelles was offered a quite remarkable bid in the Auctions held last Saturday in Lier-Azelhof (BEL). In addition to his recognized sports qualities, his blood line was also an asset that did not leave the bidders indifferent:
His sire, Curby du Seigneur moved to America few years ago after a successful 3-years' international competition wins under Jérôme Guery's saddle. Curby is also issued from an exceptional dam line and his offspring do not disappoint. Curby has sired the approved stallions Hellix du Seigneur, Howard du Seigneur, Global Champ de Vy and the fantastic jumper Hortaxe du Seigneur, which is also the full brother of Jackson Billy du Seigneur and that's no coincidence.
His dam, Atabelle du Seigneur produced not only those two fantastic show jumpers, Hortaxe du Seigneur and Jackson Billy du Seigneur, but  her oldest offspring Databelle du Seigneur is also performing at the international level under the saddle of Peter Schollaert. Moreover, Atabelle du Seigneur is no less than the uterine sister of the well known Verybelle du Seigneur, aka Oak Grove's Heartfelt, who jumps at the highest level under the saddle of Harm Lahde. Arac du Seigneur (CSI 1.60m - Angelique Rüsen), Vivald'ick (CSI 1.50m - Arthur Gustavo Da Silva) and Calgary du Seigneur (CSI 1.40m - Sophie Geurts) are some other well-known half-brothers and half-sisters of his dam, Atabelle.
Jackson Billy's granddam is the fantastic mare Ta Belle van Sombeke, who jumped at 1m60 level with Jos Lansink, meaning that Jackson Billy is also closely related to international toppers such as Glock's London, Cardino du Seigneur, Taran de la Pomme, Pikap, Golden Hawk, Dabelle, Fa Belle van Sombeke, Ba Belle van 't Roosakker, Quabelle, Ratina Kervec, VDL Group Eureka and a whole series of other 1.60m show jumpers!
Issued from Woodland International Sales.
M.L.